WELCOME TO THE LORD HURK SHOP NEW PRODUCTS ADDED IRREGULARLY
UPDATE: Free shipping on all UK orders! Unfortunately overseas orders are temporarily unavailable but will return as soon as we find a new affordale option.


BOOKS

AFFORDABLE AMAZEMENT #2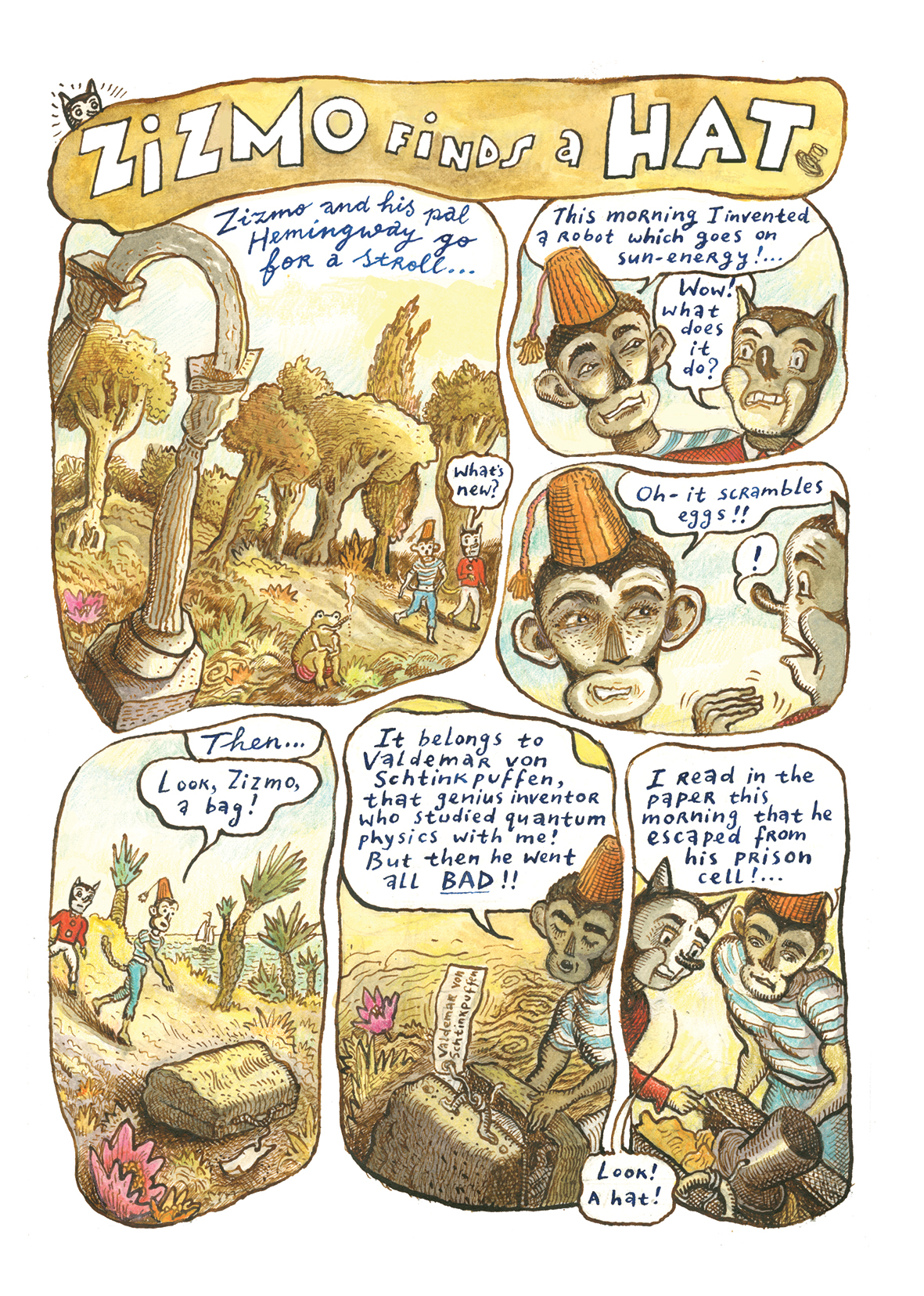 Issue 2 of the European comics anthology edited by Hurk and featuring works by Emilie Gleason (France), Paul Ashley Brown (UK), Stan Ahrens (UK), Cegado (Germany), Tanya Milkkitten (UK), Chanic (Belgium), Paul O'Connell (UK), Kevin Ward (Spain/UK) and the late and very great Tobias Tak (Netherlands/UK).
72 colour pages. Perfect bound book. Size: A5 (21 x 14.5cm)
More details on AA#2
A collection of 30 illustrations of fake magazine covers inspired by japanese manga.
32 colour pages. Saddle stitched book. A5 size (21 x 14.5cm)



BAZOIK BOOK



Fantastic action-soaked tales of surreal crime and absurd two-bit hoodlums.
44 B/W Pages. Perfect bound comic. A5 size (21 x 14.5cm)

More details on Bazoik



READY FOR POP BOOK



"The book is really simply a mash-up between pop music and caper films, an easily digestible concept that is given depth, detail and specificity by staying true to its era. It's the consistency and clarity of the mind-bending visuals that really put the book over the top, giving the book a skewed and psychedelic look without sacrificing storytelling." (Rob Clough, High-Low Comics) 128 B/W pages. Perfect bound graphic novel. Size: 25.5 x 18.5 cm
More details on Ready For Pop



AFFORDABLE AMAZEMENT CATALOGUE COMIC #1



Comics anthology edited by Lord Hurk. Featuring Tobias Tak, Kevin Ward, Tanya Meditzky, Paul Ashley Brown, Chanic, Paul O'Connell and Hurk. 40 B/W pages US format comic book size (26 x 17cm)
More details on AAC#1




PRINTS


'NEW FACE IN HELL' PRINT




Comic-strip interpretation of the song 'A new face in hell' by The Fall.
A3 size (29.7 x 42 cm)Digital print on 300gsm white recycled board.
Signed on front, stamped on back.



'ATHLETE CURED' PRINT





Comic-strip interpretation of the song 'Athlete Cured' by The Fall.
A3 size (29.7 x 42 cm)Digital print on 300gsm white recycled board.
Signed on front, stamped on back.

Also available in A4 size (21 x 29.7 cm)


'PSYCHEDELIC LEAGUE BASEBALL' PRINT





Digital print of an image from MANGLA (see book section above) on 300gsm white recycled board.
Signed on front and stamped on back. A4 size (21 x 29.7cm)


'INCREDIBLE HEAD AND THE 6' PRINT




Digital print of an image from MANGLA (see book section above) on 300gsm white recycled board.
Signed on front and stamped on back. A4 size (21 x 29.7cm)


'INCREDIBLE HEAD SUPER CATMIX' PRINT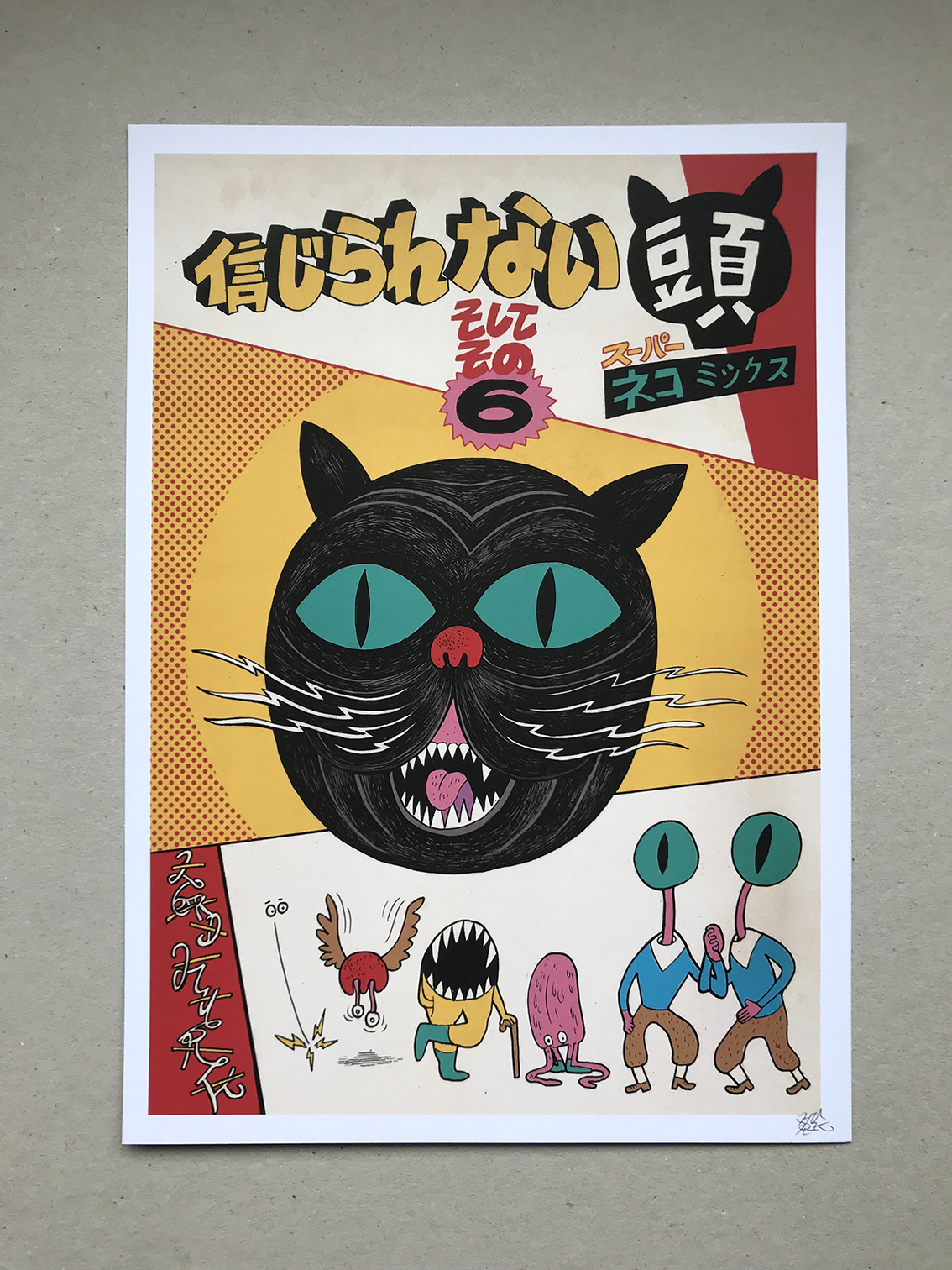 Digital print of an image from MANGLA (see book section above) on 300gsm white recycled board.
Signed on front and stamped on back. A4 size (21 x 29.7cm)


'DRUGDOG X' PRINT




Digital print of an image from MANGLA (see book section above) on 300gsm white recycled board.
Signed on front and stamped on back. A4 size (21 x 29.7cm)


'RELAXED WORM' PRINT




Digital print of an image from MANGLA (see book section above) on 300gsm white recycled board.
Signed on front and stamped on back. A4 size (21 x 29.7cm)


CYBORG HITMAN SCREENPRINT (PINK/BLACK)



Two colour screenprint on heavy 300gsm recycled paper.
Edition of 10, numbered and signed. Paper size: 50 x 35cm



CYBORG HITMAN SCREENPRINT (YELLOW/RED)



Two colour screenprint on heavy 300gsm recycled paper.
Edition of 10, numbered and signed. Paper size: 50 x 35cm



CYBORG HITMAN SCREENPRINT ('FRUIT SALAD'/BLACK)



Two colour screenprint on heavy 300gsm recycled paper.
Edition of 4, numbered and signed. Paper size: 50 x 35cm